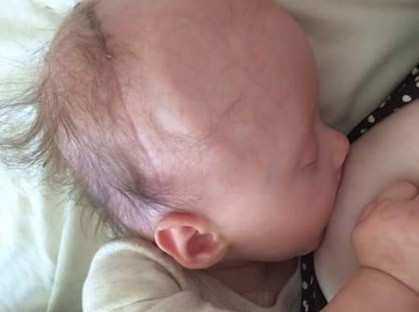 An special image of a breastfeeding baby is going viral as her mom seeks to nourish and bond with her baby during a difficult time. Baby Xenia has stage 3 brain cancer and mom Anastasia Pittis wanted to share with other moms how important breastfeeding has been for her as her child undergoes chemotherapy.
After posting her image on Breastfeeding Mama Talk she had no idea her image would go viral, nor could she imagine all the love and support she would receive from moms. It's incredibly heart breaking Xenia's family has had to deal with such a trying ordeal but so many moms chimed in about their own stories of having a child with cancer. Although, it is not common for children to be born with cancer it is treatable.
Xenia is pictured above breastfeeding, with a visible scar from surgery.