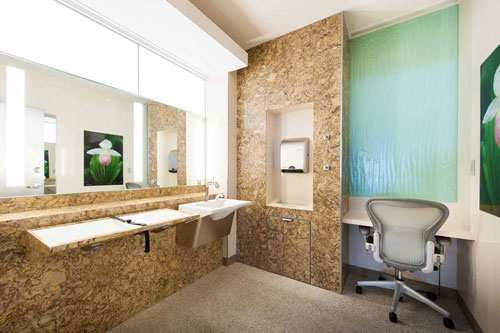 DEFINITION OF NURSING ROOM - (Lactation Room & Breastfeeding Room)
A
Nursing Room
is a dedicated private room other than a bathroom, that is shielded from view and interruption from the public, which is used by nursing mothers to express breast milk by breastfeeding or breastpumping.
BASIC REQUIREMENTS OF A NURSING ROOM
Comfortable seating
Table
Outlet to connect electric breastpump
Sink for cleaning nursing equipment
Lockable door
From Pregnancy and maternity, to infants, toddlers, parenting and motherhood, MomsPumpHere does its best to help new moms make the transition from nursing at home to breastfeeding or breastpumping for their babies in public. Pregnancy was challenging enough mother's health, finding a nice comfortable spot to nurse your baby shouldn't be.
AFFORDABLE CARE ACT (OBAMACARE):
Workplace Lactation Accommodation Laws
SEC. 4207. REASONABLE BREAK TIME FOR NURSING MOTHERS.
Section 7 of the Fair Labor Standards Act of 1938 (29 U.S.C. 207) is amended by adding at the end the following:
(r)An employer shall provide—

(A) a reasonable break time for an employee to express breast milk for her nursing child for 1 year after the child's birth each time such employee has need to express the milk; and

(B) a place, other than a bathroom, that is shielded from view and free from intrusion from coworkers and the public, which may be used by an employee to express breast milk.
An employer shall not be required to compensate an employee receiving reasonable break time under paragraph (1) for any work time spent for such purpose.
An employer that employs less than 50 employees shall not be subject to the requirements of this subsection, if such requirements would impose an undue hardship by causing the employer significant difficulty or expense when considered in relation to the size, financial resources, nature, or structure of the employer's business.

DEFINITION OF LACTATION ROOM - (Nursing Room & Breastfeeding Room)

A Lactation Room is a dedicated private room other than a bathroom, that is shielded from view and interruption from the public, which is used by nursing mothers to express breast milk by breastfeeding or breast pumping.



Lactation Room Guide -