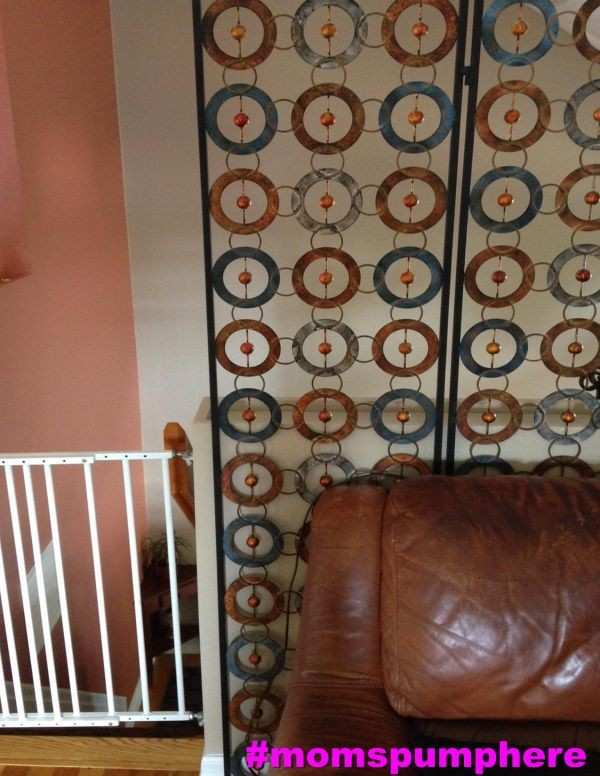 In honor of September being Baby Safety Month, I want to share some non-traditional baby safety tips that can be very helpful.
Be creative when looking for ways to improve the safety of your home. Our home is a loft-style open floor plan with a 12 foot drop from the living room to the main foyer and our oldest son had no interest in climbing over the wall. When our second son began to crawl and climb, we immediately knew we had to find something to keep the boys off the wall. No baby gates worked, so instead we found a set of unique room dividers which serve the function very well. It's slightly sharp but only if the boys touch or climb on it - which it quickly deterred them from doing!
Be consistent with using the safety equipment. Always put the safety locks on the cabinet doors to your medicine chest or cleaning cabinets because it just takes one distracted moment for a child to take a big glug of bleach or allergy medication.
Be child-like when setting up the safety equipment. Get down on your hands and knees and look for items and/or obstacles your little one may encounter. Walking around the room will help you identify blatant safety concerns, but when you mimic your child's behavior you are more likely notice unprotected outlets, exposed electrical sockets, and dangling cords.
Be resourceful. Companies exist specifically for helping parents baby-proof their homes - take advantage of these resources. Have a professional come in and analyze your efforts and accept their suggestions and input. Your baby will thank you!
What safety tips have worked well for you?