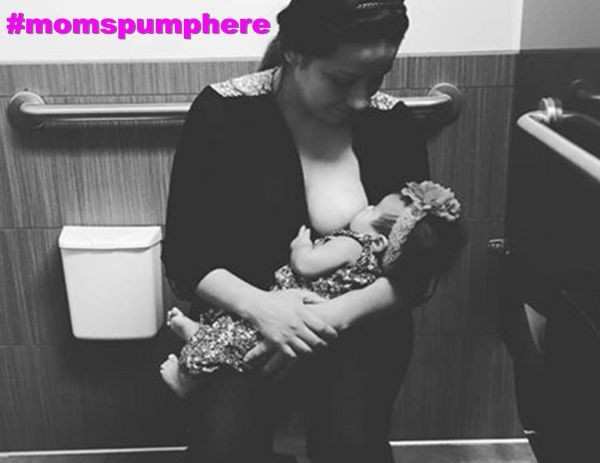 Photo by Karina Gomez, Facebook
Here we go again. Another mom wants to nurse her baby while she's out and about away from home. This is normal. The reaction she gets when she wants to nurse at a Marshalls department store near Portland, Oregon is not normal; she was told to feed her baby in a bathroom stall!
Karina Gomez's experience this week is another example of why our society needs to normalize breastfeeding and accept that breastfeeding in public is not something to beuncomfortable with.
Gomez shared her story on Facebook. "What a way to treat breastfeeding customers, shaming them for breastfeeding, making them feel embarrassed that you need to feed your child." She went on further to describe her feelings in a way many nursing mothers have felt recently when asked to nurse elsewhere: "I am angry, upset, but more so humiliated. My rights have been violated."
In response, Marshalls officially released a statement to a local news agency, KGW News:
"We have a breastfeeding policy in place which instructs associates to allow customers to breastfeed as they choose within stores. We have looked into this matter and regret that it may not have been followed in this instance…we apologize for any inconvenience."
The apology is appreciated, but the culture of employees at Marshalls (and other establishments) needs to change. Employee education and enlightenment could help improve the situation and help nursing moms avoid the shame and embarrassment they're forced to experience when asked to nurse in a bathroom instead of someplace cleaner, safer, and more comfortable.