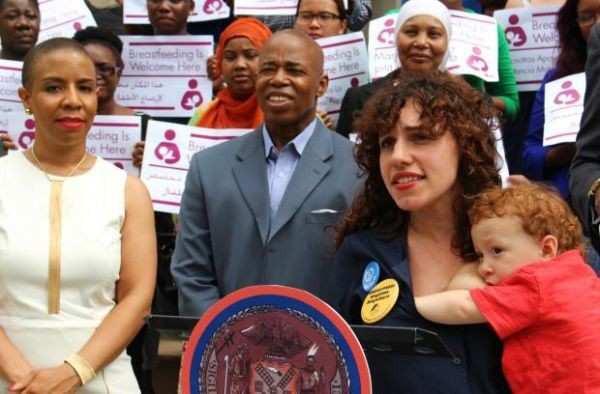 Photo Credit: DNA Info/Camille Bautista
Fantastic news! Setting the standard, high, New York's City Council unanimously passed a new bill this week which will mandate that specific city centers provide lactation locations for nursing women within the five boroughs.
The intended centers throughout NYC include job centers, certain borough offices, and Department of Social Services' medical assistance program locations. The requirement states that these facilities should have a minimum of one lactation room available for women who are using the services.
The bill also mandates what we at Moms Pump Here have been requesting for our pumping places: the location cannot be a restroom. The location must be used for women to breastfeed or pump milk privately and should include an electrical outlet, a chair and access to running water within a reasonable area.
The bill was co-sponsored by Councilman Robert Cornegy, who saw first-hand how his breastfeeding wife struggled to find safe, clean places to breastfeed within the city. Cornegy shared, "This legislation is not in an effort to hide a woman's ability to breastfeed wherever she needs to breastfeed…It is to support the idea that there are clean, safe places to breastfeed. We know and support the idea that a woman has a right to breastfeed wherever she wants to breastfeed."
The law will go into effect next July.