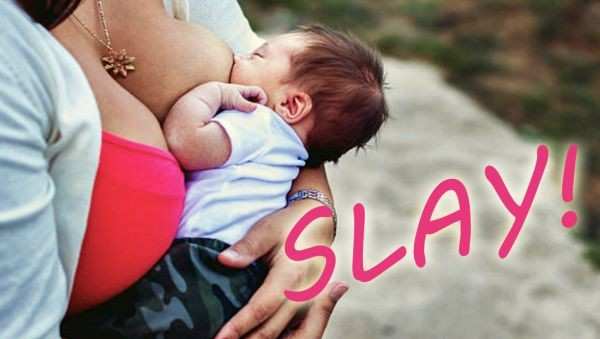 OK gotta' admit I'm in a SLAYIN' mood. Moms are not just dried up, mom jean wearing, diaper changing, dinner cooking, multi-taskers! Girl, we need to slay to keep our sanity. Breastfeeding moms, breast pumping moms, stay at home moms, work at home moms, working moms and new moms can still feel beautiful, sexy and alive!! Here are some tips on how you can SLAY!
1. Not enough sleep. Put on your lip gloss and sweep your hair up into a messy bun. Slay!
2. Not feeling sexy. Put on those yoga pants and some heels or knee high boots to run errands. Compliment it with a loose flowy shirt. Not taking off your coat? Who cares! Slay!
3. Not feeling excited about today, or the week. Put on your favorite music and shake what your mama gave you. No one is watching……Slay!
4. Kids driving you crazy and you feel like you have no time to breathe. Make some smoothies for everyone; add some chocolate and some Alka Mind greens to pep up your mood. Slay! – need more? Call your girlfriend and have her bring over her kids. Tell her to wear her heals and plan to make a bunch of treats together with the kids. Slay!
5. Valentine's Day got you down? Refer to #1, #2 and take some selfies with your baby! Nothing better than sharing how fab you are with the rest of the world. Slay!
6. Stressed out, working hard, not enough fun?? Book a night out with girlfriends or a solo spa date for yourself a week or a few weeks from now. Make sure if it's a spa they serve Mimosas! Slay!
*BONUS 6. Nursing moms, tired of all those stares as you breastfeed in public? Put on those black shades, refer to #1, #2, and call your girl friends for a "Nursing Date." Slay together!!