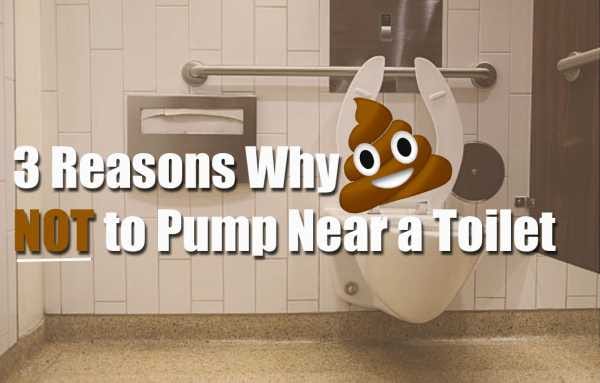 Nursing rooms have been around for quite some time now. And companies like Moms Pump Here are working to create options for moms on the go who need to pump or nurse their babies. But we've seen our share of locations submitted to our locator that include a bathroom or toilet. We keep them listed so moms can rate and share their review of the locations. Do we agree with bathrooms as a place to pump. NOPE. So they are listed for your knowledge.
But what's the deal with toilets?? Why shouldn't moms pump near or on the toilet? It's really all about POO and germs. Here are 3 statistic and scientifically backed explanations why you should not pump near a toilet:
1. It's a barrier to breast milk. Toilets are generally seen as unhygienic. If a mom, for example at work, is told to pump in the bathroom it may cause premature weening. Moms will think they have run out of options to make pumping and working in an office work. And if you do pump in the bathroom there is the issue of co-workers wanting to use the restroom, thinking you are taking too many breaks and the rushing to pump may cause all sorts of issues, including mastitis. (source: National Institute of Health)
2. Toilets spray E.Coli. When you flush a toilet particles of water spray into the air. These particles contain urine and fecal matter. According to a"2015 review published in the American Journal of Infection Control analyzed various small studies in which researchers purposefully put certain pathogens in a toilet, flushed, and then monitored how far they went and how long they lingered. The kinds of bacteria they included can often be found in the human intestines, then come out in poop or vomit and make you sick when ingested.
One study found that E. coli, which can cause diarrhea and vomiting, lingered in the air for up to four to six hours after flushing. Another determined that salmonella, which can cause similar symptoms, lingered in the toilet bowl for 50 days after it was put in there, got aerosolized every time people flushed, and contaminated surfaces like the toilet flusher and door handle. Still another found that Clostridium difficile, which can cause fever, diarrhea, stomach pain, or even a life-threatening infection, hung out in the air above the toilet for up to 90 minutes after flushing."
3. It makes food consumption toxic. Eating or placing food near a toilet can be toxic to your health. Breast milk is considered a FOOD. Wouldn't preparing breast milk for your baby or nursing your baby on a toilet be toxic to their health? You would think everyone would be completely on board with that analysis...but they're not. According to the Occupation Safety and Heath Administration (OSHA) under Section 1910.141(g)(2):
--No employee shall be allowed to consume food or beverages in a toilet room or in any area exposed to a toxic material.
SO next time you are told by someone to pump in a bathroom or area with a toilet share this information with them. You can also report your employer to OSHA if necessary.