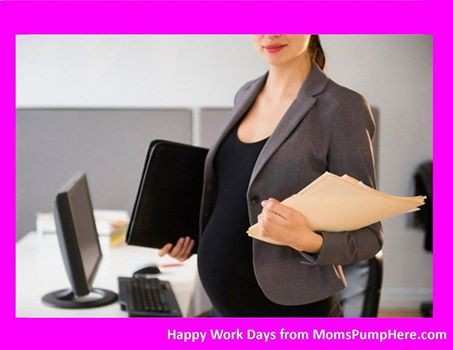 I recently had coffee with a friend who is 9 months pregnant and she was sharing comments that some of her male co-workers had made during her pregnancy. Most common are statements about how she should try her best to schedule her delivery as close to the due date as possible so that she won't miss work before she's "scheduled to". This made me laugh at first because the men she was working with really don't seem to understand how the birthing process works (such as the BABY is in charge) -- but then I remembered some of the insensitive comments I had received while I was pregnant:
Well, well, look who waddled in this morning.
I think you got wider overnight.
Are you sure there aren't twins in there?
Is your baby packing its own bags for the hospital? Because there's plenty of extra going on around there (gesturing at my belly).
My least favorite moment being pregnant at work was walking into a conference room for a routine meeting and sitting down at my "usual" spot - between two male co-workers, both of whom were in their 40's. As soon as I sat down, both men got up and relocated to new spots across the table from me because, as one said, he was afraid they "might get splashed on." Splashed on? As if my water would break and projectile "splash" into the chairs on my left and my right?
Moms know that the end of pregnancy can be pretty emotional and make you react in ways you may normally not react. I know I countered with a comment about how they each had a mother who carried them in her belly for nine months and that when she was waddling, and gaining weight, she was loving them and hoping for them to be born healthy and happy -- and surely both their mothers would be ashamed at their behavior towards a pregnant woman at work. I remember feeling offended, hurt, upset, and even sad at the time but then I also felt empowered and enlightened when thinking of these men and their very closed minds. While they were worried about being "splashed" with my amniotic fluid, I could feel my son kick, wiggle and squirm during the rest of the meeting -- and I felt a bit sorry that these two co-workers would never feel that intimacy and joy of feeling life inside their bellies.
What about you, Moms? Was your work environement friendly while you were pregnant?