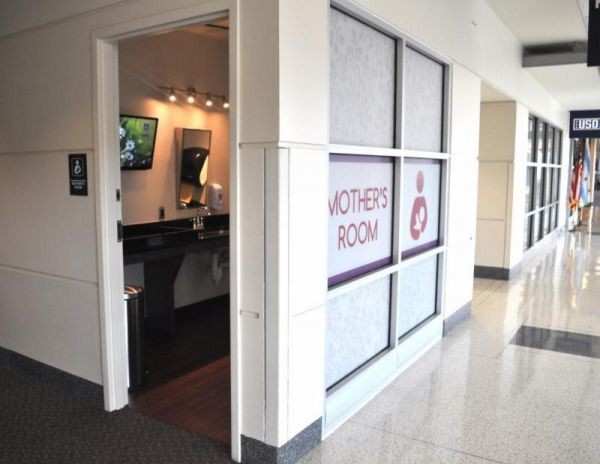 Nursing mothers traveling, working, or residing in Illinois got a big boost from Governor Bruce Rauner this week when he endorsed the law which requires all large airports (listed in our airport nursing rooms locator) to create or add breastfeeding rooms by 2017.
Chicago's O'Hare airport already has breastfeeding rooms available here and Midway International also has its own breastfeeding location as well.
Chicago Department of Aviation spokeswoman Karen Pride has shared that the Midway location features a door which can be locked, a leather chair with a nearby electrical outlet for pumping, and a flat screen television which offers relaxing images of flowers and landscapes.
This upgraded setting is a warm welcome from the typical restroom which many women are shown when they ask airport personnel where they should be pumping milk or nursing their babies. A study published in 2014 by Breastfeeding Medicine reported that less than ten percent of U.S. airports provide this type of standard setting which includes an area separate from the bathroom with an electrical outlet, table and a chair. This small percentage contrasts dramatically with the 62% of U.S. airports which consider their locations to be "breastfeeding-friendly."
This new Illinois law follows the groundbreaking stance of U.S. Representative Tammy Duckworth's support of the federal Friendly Airports for Mothers Act. This proposed legislation pushes all major American airports to have breastfeeding rooms.
We at Moms Pump Here can only presume that to see her home state of Illinois establishing this as law during World Breastfeeding Week 2015 must feel like a victory to Representative Duckworth. We know we are happy to see legislation like this come into existence.
For more information about finding a nursing room or place to use your pump, please visit momspumphere.com or download our free nursing room locator app.