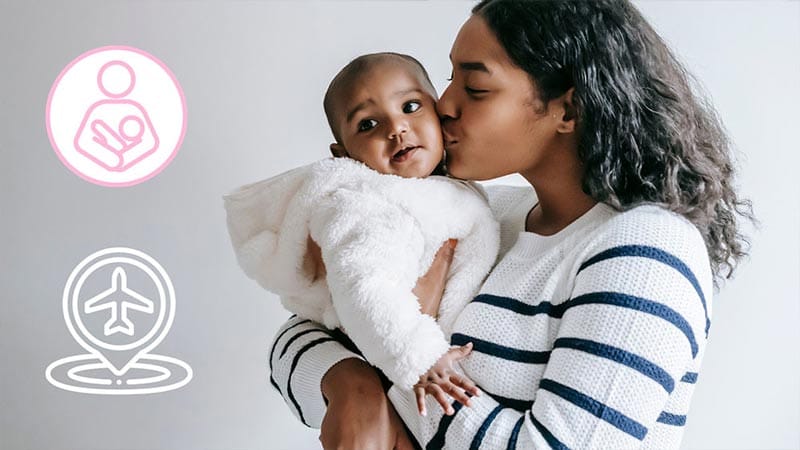 ​Travel doesn't stop for nursing moms as families and women traverse the globe for fun or work. Women need to know where to go when they arrive in a new location, to breast pump or breastfeed. When scoping out a nursing mother's room or pod make sure there is privacy, a source of water near by, a place to sit, a location to rest your personal items and enough space for you and baby.
Most major airports will have everything you need, however they vary in terms of quality and location in the airport. You are welcome to rate and add locations on Moms Pump Here, like the ones below, that happen to be the three busiest airports accessed by moms in North America.
1.
Hartsfield Jackson - ATL, Atlanta, GA
Hartsfield Jackson International Airport in College Park, Georgia has nine lactation spaces in their six concourses: It includes one new nursing mother's Room, two Minute Suites (the first 30 minutes are free), and seven Mamava lactation pods with more amenities like breast pads and wipes.
Locations of Seven lactation pods:
The stations are situated at the Domestic Terminal West Crossover (pre-security), near gates B5, D34, T7, F5, E Centerpoint (post-security) and F arrivals (International).
2.
San Francisco International - SF - San Francisco, CA
SFO San Francisco Airport nursery - Private nursing rooms are available post-security in Terminals 1, 2, 3. This one in terminal 2 is at (Virgin America and American Airlines) to the right of TSA near the bathrooms. Use the Airport Courtesy Phones to request access.


Currently Newark Liberty Airport has 11 Nursing Suites for breastfeeding mothers:
1. A pre-security - Level 2, Door 8
2. Gates A30-39
3. A2 - near bus access
4. A3 - post security between Gate 32 & center
5. B1 - Gate B47
6. B2 - Alcove beyond Gate 51
7. B3 - Gate B66 after TSA
8. C1 - Gate C90 by the Club
9. C2 - Gate 104
10. C3 - Gate 123
11. Gate C107 & C123
What nursing moms should pack when traveling:
Portable or manual pump & breast milk bags
Nursing bag or book bag with lots of compartments
Baby wipes and paper towel for messes
Freezer pack to keep your milk chilled
A snack and water for mom
Hand sanitizer
MomsPumpHere.com to locate a suitable nursing mom location and rate it!