As of May 2015, Mothers traveling through Pittsburgh International Airport now have access to a new, clean and comfortable space where they can more easily breastfeed, use a breast pump and care for young children.
A Mothers' Nursing Lounge opened in Concourse C, across from Kidsport. The new room, the first of its kind at PIT, was established to make it easy and convenient for lactating moms traveling with infants or young children.Pittsburgh International Airport offer a nursing mothers area to help traveling breastfeeding and breast pumping moms express milk or feed their baby.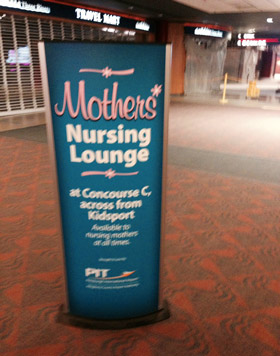 Amenities of this renovated room feature new paint, carpet, comfortable padded seating, soft ottoman, outlets for plugging in an electric breast pump, and a baby changing table.
Jeff Martinelli, Vice President of Customer Relations at Pittsburgh International stated:
"We certainly want mothers to know that they are welcome to nurse anywhere in the airport, but based on feedback we have received, we also wanted to offer a space that was more quiet and comfortable than gates, the food court area or restrooms,"