The Stanford University Redwood City campus offers lactation spaces (breastfeeding rooms) in each of the administrative buildings providing campus moms with a space to express breast milk or feed their infants when needed. New moms are given first priority to reserve time in designated spaces.
All wellness and lactation spaces are equipped with a comfy recliner, sink, mini fridge, microwave and a small table; select rooms include a modified workspace.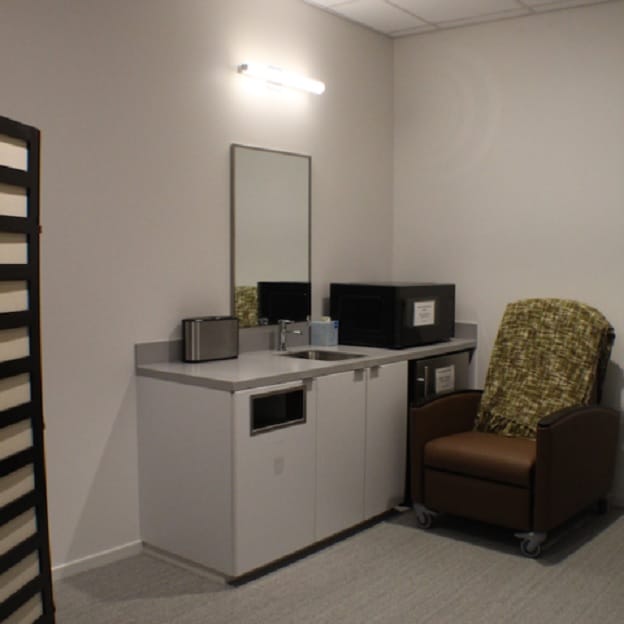 LOCATIONS: Below are the room numbers for designated wellness and lactation spaces at SRWC:


Cardinal Hall: C203, C353, C401, C568, C601


University Hall: U244, U353, U431, U546


Discovery Hall: D132, D203, D330, D449, D574


Academy Hall: A183, A202, A394


HOURS:
RESERVATION PROCESS
You may reserve wellness/lactation spaces in two ways:
Teem panel located outside each wellness room: Click the "+" sign to start the process of scheduling. A scheduling assistant will pop up and the "meeting" will start immediately. You will need to enter the end time (see room etiquette above). Once end time is entered, tap the "Reserve Now" button to finalize the schedule.
Schedule a meeting in Outlook: similar to other meeting invites, create a meeting and enter the wellness/lactation room number in the "location" section. You may also "search rooms" in Outlook using the "Scheduling Assistant" button.
ROOM ETIQUETTE
Please observe the following guidelines to ensure a safe and relaxing environment for all:


Typically rooms are reserved for 30 minutes at a time, however, some individuals may need longer.


Be mindful and don't overextend your reservation time. If you are more than 15 minutes late, consider rescheduling so as to not impact other reservations


Check Teem panel before use; reserve the space in advance


Always leave the room clean and reset for the next person


Priority for Nursing Parents
All second floor wellness rooms are prioritized to support and accommodate nursing parents who wish to carry out their breastfeeding goals after returning to work. This means, nursing parents will have first right to reserve time in these designated rooms.


Cardinal Hall: C203


University Hall: U244


Discovery Hall: D203


Academy Hall: A202


#stanforduniversity #srwc #redwoodcity #bfus #collegenursingrooms #californiabreastfeeding