Nursing mothers traveling through Palm Beach International Airport (PBI) have a private space to feed their babies now.
A portable lactation suite has opened beyond security in Concourse C, across from Gate C1. It offers a private area for nursing mothers to breast-feed infants or use breast pumps.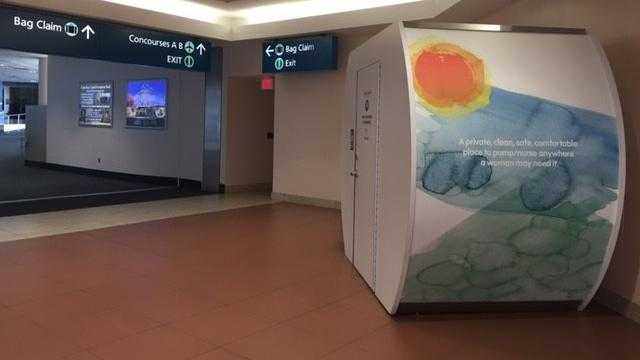 The 9- by 5-foot mobile pod offers benches, an electrical outlet and a locking door.
The West Palm Beach facility is the first airport in South Florida to offer this type of lactation suite, airport officials said in a news release.
PBIA also has a dedicated play zone with hand painted wall murals depicting a zoo/jungle theme called KidzPlay. Moms will find other moms here with young children and could be a more comfy area to breastfeed.
If the nursing mothers pod is occupied, the other option is to ask a staff for another quiet and private area if one is available.
Florida protects nursing moms right to breastfeed in public so you can feed your infant wherever you feel comfortable in this airport.
Note: Report mom-shaming or harassment while nursing in public or near lactation rooms (breastfeeding rooms), at Moms Pump Here mobile site https://www.momspumphere.com
#bfus