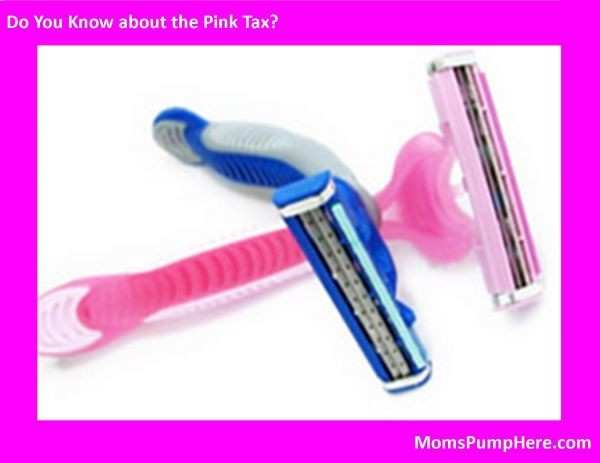 As a part-time working mom, I'm careful with my money and my time. I'm also careful about the pink tax.
Also known as gender pricing, the pink tax is the idea that women's products cost more than a comparable men's product and it's actually illegal in New York City, in one county in Florida and in the entire state of California. Some products are actually 25-50% more expensive if they're marketed for a woman instead of to a man.
The Pink Tax can apply to many different products. A recent USA Today report gave examples of Target's shaving cream costing $2.09 for a men's product and $2.54 for a women's product of the same brand and size. The same study showed a pack of Men's Bic razors costing $5.49 while the women's pack cost $6.39 and a package of Degree deodorant for men cost $3.99 while the same product for women cost $7.39.
The Pink Tax can also apply to different services. Consider a haircut - we all know that going to a salon is more expensive than going to a barber shop but some men get color treatments and some women have very simple hairstyles that require less time to cut and style. My local Lemon Tree charges men $10.00 for a haircut on Mondays (when they offer a special deal) but they charge women $13.00 for a "cut and go" on the same day. That's a pink tax of 30%!
What about at the dry cleaners? I drop off my husband's dress shirts to be laundered for $1.50 each but if I ask them to launder a blouse of mine, my charge is automatically $4.75 because they won't launder a women's shirt. Instead it must be dry cleaned which costs more money. When I've tried to argue that I want my shirts laundered just like my husband's (adding in my shirts are smaller in size and would likely require less starch than his), the proprietor apologizes and says that's their polilcy. That's a pink tax of 220%!
Certain items only women need to buy. For example, bras alone cost a small fortune. Nursing bras cost even more than regular bras - but this isn't a cost men need to be consider. Feminine products are a cost we incur which men also don't need to consider (unless we send them to the store for us). The pink tax is a daily invasion.
Have you heard anyone complain about Ladies' Nights or Ladies Only events? A local restaurant promotes their Ladies nights where women can drink free on Wednesday evenings, and our local car wash has 50% discounts for women who get their cars washed on Wednesdays. Yes, this is another marketing gimmick and yes, I will take advantage of it but my $10.00 car wash is not saving me enough money to pay the pink taxes I'm inccurring at other places.
What do you ladies think? Do you believe there is a Pink Tax? Are you careful about how it affects your spending? Do you think there's anything we can do about it?