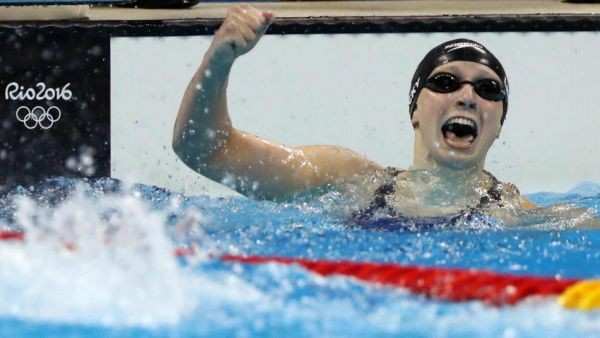 Photo Credit: NBC Olympics
Have you been watching the Olympics coverage from Rio? Any other moms feeling insulted by some of the coverage and comments being made?
Yes, this summer has seen the first woman become a U.S. Presidential candidate for a major political party – but why are we treating the female Olympians so poorly and not giving them their due glory?
Let's start with the first Olympic gold medal winner for the U.S. in Rio, 19-year-old Ginny Thrasher. The student at West Virginia beat out the silver medalist Du Li of China and captured the gold medal – but we didn't get to see her medal ceremony on NBC's coverage this weekend. My six-year-old was so impressed with her win, but not only did we not see the entire event – but we didn't even get to see her enjoy the glory of having the medal placed on her neck while the national anthem played in the background. We tried to find it on an alternate channel, even online – I wondered if NBC didn't deem her win as worthy enough to show to us Americans at home?
Moving on to the Chicago coverage of Corey Cogdell-Unrein. On Sunday the Chicago Tribune tweeted, "Wife of a Bears' lineman wins a bronze medal today in Rio Olympics." Wife of a Bears' lineman? How infuriating! They can't even give her name or her sport – but we know she must be important because she's married to a member of the Chicago Bears. This is crazy!
Earlier in the weekend, I watched coverage of Hungarian swimmer Katinka Hosszu, who didn't do as great in the London Olympics as she is doing in Rio right now, and the NBC commentators referred to her post-London activity as that of staying in bed, refusing to leave her home. Now that she is winning and performing very well in Rio, the commentators quickly showed video of Hosszu's husband (and coach), Shane Tusup, and described her husband as "the man responsible".
How about Hosszu worked hard, trained hard, and fought emotional demons we can never imagine? Can NBC's commentators not see that as an option? Yes, she may have the support and encouragement from her husband to get back into the Olympics – but she is the one swimming the races. How about we give her credit for doing the work and award her with the glory that comes with that?
Our applause also goes to swimmer Dana Vollmer, a 28-year-old Olympian from upstate NY. She was very frank in her interview with NBC about becoming a mom and then building back her body into Olympic shape. We moms know how difficult it can be to get the pre-baby body back, but why does NBC need to focus on Vollmer's new status as a mom? NBC posted an article beginning with, "Dana Vollmer…won two Olympic medals just 17 months after the birth of her son." Would we say this about a man? Fellow American swimming champion Michael Phelps can be seen looking up in the stands at his young son, Boomer, who was born in May. We are not trying to take away from Vollmer's accomplishments. I am confident that I could not train for the Olympics and win a medal so close to the birth of any of my children, but why is this NBC's focus?
The champion beach volleyball player Kerri Walsh-Jennings shared in her NBC coverage that during the 2012 Olympics in London she knew she was pregnant with her third child but she kept this news to herself. Perhaps this was a better idea than any of us could've thought. Seeing the coverage now for Rio's champions – would the commentators in 2012 focused on her "delicate" condition instead of simply celebrating the marvelous champion she is as an athlete?
How about Katie Ledecky, the powerhouse swimmer from the D.C. area? She surprised the world with her abilities at the London games but she is absolutely outstanding this summer in Rio. Sunday night she broke her own world record in the 400 freestyle, coming in at 3:56.46. She finished so far ahead of the silver medalist Jazz Carlin that she had nearly four seconds to enjoy her glory. (Carlin's time was 4:01).
But the glory was short-lived because it seems our American society (being depicted by NBC commentators) use the phrase that "Katie Ledecky swims like a man." Swims like a man? Are you kidding me? Katie Ledecky swims like Katie Ledecky, a woman swimmer who calmly and confidently breaks world records. To further the sexism and comparisons to male athletes, the Washington Post ran a headline, "Katie Ledeky again proves she's the Michael Jordan of swimming, down to the tongue wag." NO. Katie Ledecky again proves she is Katie Ledecky, the world record holder for swimming events.
How is this happening? We are in 2016, aren't we? Let's start to act like we are a country and society where we've been voting for almost 100 years, where women deserve equal pay for the same work as a man, and where female athletes receive the glory they have earned.
We at Moms Pump Here encourage you to share this post to your own social media platforms so we can let others know how we feel.