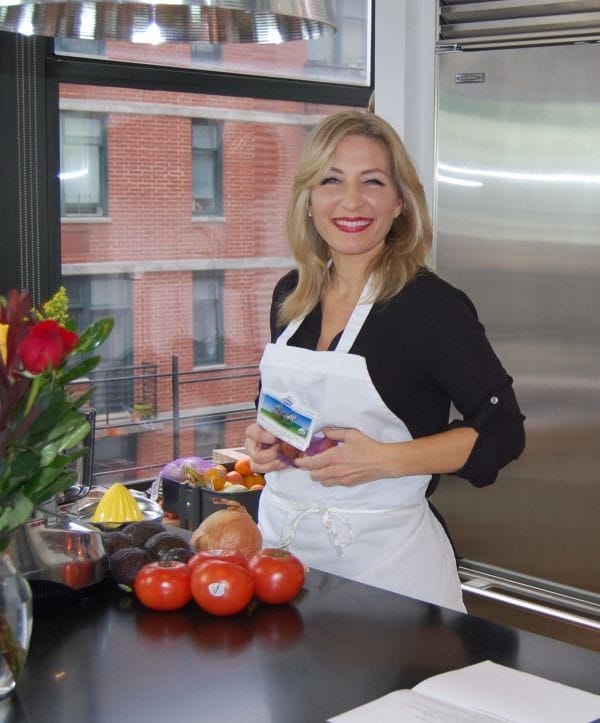 We had the pleasure of having Chef Jamee Vesga on our latest episode of #thePINKLife. She shared healthy snacks busy moms can make and prep at the beginning of the week. Her culinary flare is savory, organic and diverse. Enjoy her recipes!
Congee (Rice Porridge) with Shiitake Mushroom
2 teaspoon grapeseed oil
2 garlic cloves, thinly sliced
1-inch piece ginger, thinly sliced
1 cup sliced fresh shiitake mushrooms
9 cups water or vegetable stock
¾ cup white basmati rice, rinsed and drained
¼ cup long grain brown rice, rinsed and drained
2 teaspoons sea salt
Garnish and condiments (choose some or all):
2 tablespoons toasted sesame oil
½ cup minced scallions
Fresh Cilantro, chopped
Roasted peanuts
Boiled egg
Toasted sesame seeds
2 sheets of Nori, cut in thin strips
Wakame flakes or dried sea vegetable
Heat oil in a large heavy 1-gallon pot over medium heat. Sauté garlic the garlic, ginger and mushrooms until the mushrooms are softened.

Add the water or stock, white basmati rice, long grain brown rice, and salt to the pot. Bring to a boil for 2-3 minutes. Lower flame, cover and allow to simmer, stirring frequently, until rice is creamy and lightly thickened (about 1 to 1 ½ hours). Cook to your preference; some like it soupy and others like it thick. If a thinner consistency is desired, add more boiling water or stock during cooking.

Season to taste with salt, Tamari or Shoyu

Turn off flame; add toasted sesame oil and scallions

Ladle into bowls; garnish with chopped boiled egg, peanuts or the any topping from the choices listed above.
Notes from the Chef:
Tamari is a gluten free soy sauce with less sodium

Shoyu is a soy sauce made from soybeans and wheat that has undergone a fermentation process

Fish or ground pork can be added if desired. If adding fish, sole, flounder, sea bass OR red snapper is best. 1 pound of fish is added to soup 3 minutes before end of cooking, or cook until tender. If adding ground pork, cook in skillet over medium heat until cooked through
Eggplant Dip (Baingan Bharta - Spiced Eggplant Puree, Shalini's Kitchen)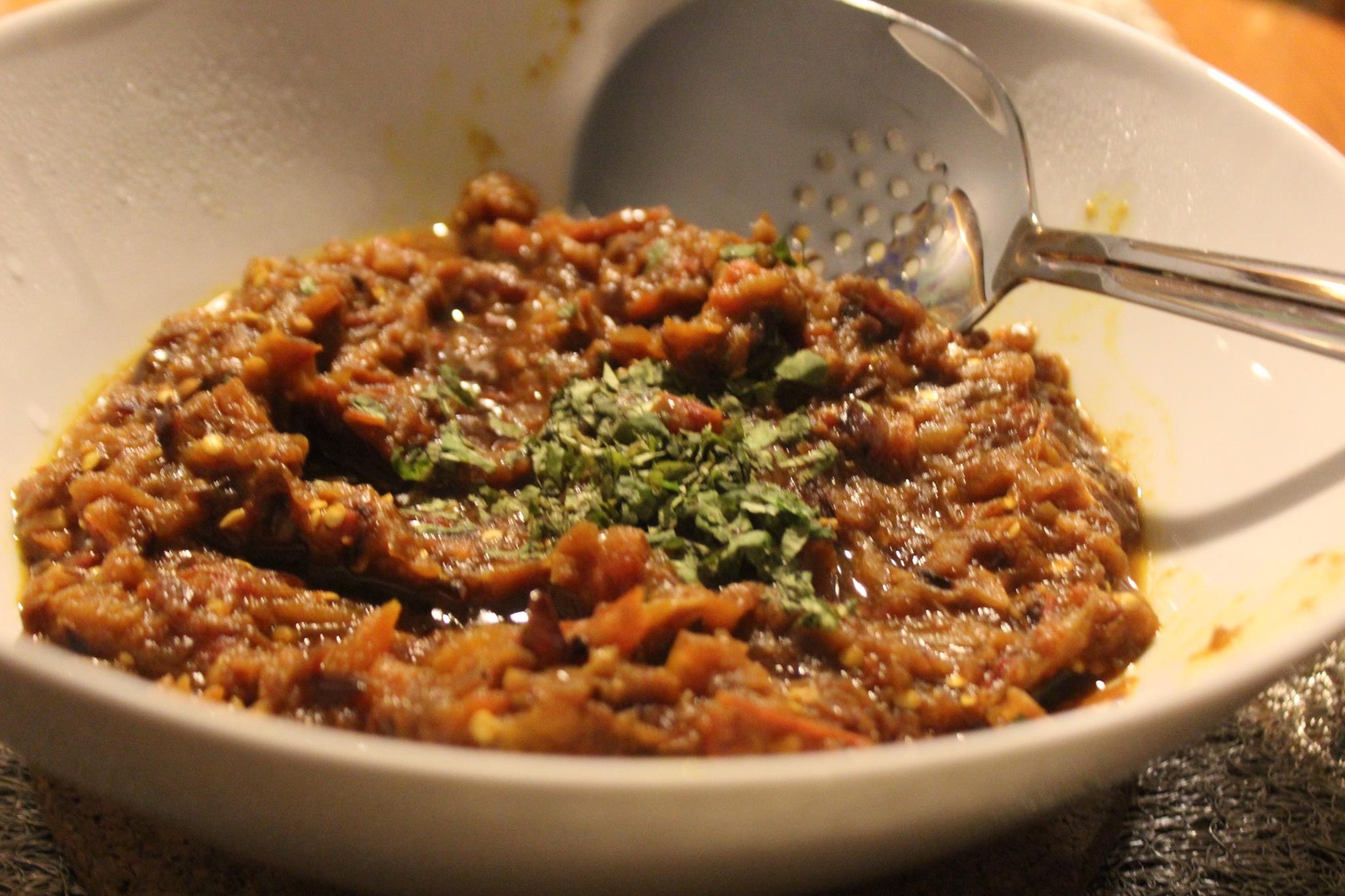 1 large Eggplant
2 large Tomatoes, finely chopped
1 tbs Oil for brushing on the Eggplant
1 tbs Coriander powder
2 tbs Oil for cooking
1 tsp Garam Masala
½ tsp Cumin Seeds
1 tsp Salt or to taste
2 large Red Onions, finely chopped
½ tsp Cayenne Pepper (optional)
1 tbs Garlic, minced
1 tbs Cilantro leaves as garnish (optional)
1 tbs ginger, grated
Set oven to Broil on High. Make a large slit right in the center of the eggplant going almost all the way down, but not completely. Then poke about 7 to 8 holes all over the eggplant. Brush the eggplant with the 1tbs of oil. Now place it on a lined baking sheet and broil in the oven for about 40 minutes or until the skin of the eggplant is completely charred and black.

Allow the eggplant to cool for a few minutes and then scoop out the inside of the eggplant and place in a bowl. It should be very soft and scoop out easily.

Mash the eggplant until it is almost of a pureed consistency. Keep aside.

Add the 2 tbs of oil to a medium pan or wok and heat for a minute on medium heat. Add the cumin seeds and cook for a few seconds or until they start sizzling.

Add in the onions and cook for 10 minutes or until reddish brown.

Add in the ginger and garlic and cook for another minute.

Mix in the tomatoes and cook for a 4 to 5 minutes or until the mixture is soft and pulpy.

Add the coriander, garam masala, salt, and cayenne and stir for a minute.

Finally add in the eggplant and cook for 4 to 5 minutes, constantly stirring so that everything is well blended. The longer you sauté it, the more enhanced the flavors get. Garnish with cilantro and serve.
Mashed Avocado Toast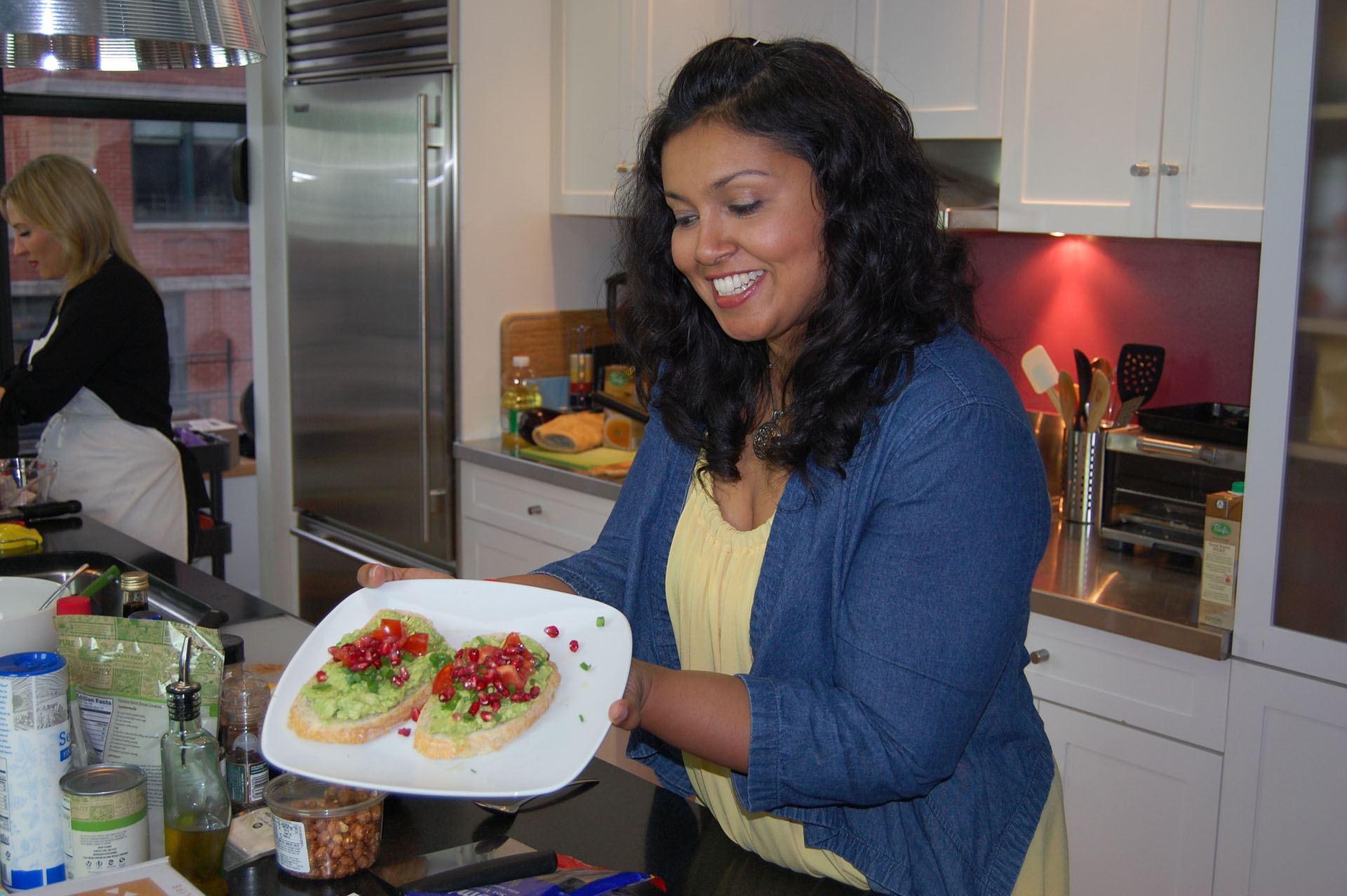 2 slices of sourdough bread, toasted
1 avocado, pitted
1 teaspoon Extra Virgin Olive Oil
Fresh lemon juice
Sea salt
Fresh ground black pepper
Garnishes (choose some or all):
Tomatoes, chopped
Fresh Basil, chopped
Fresh Cilantro
Chopped boiled egg
Pistachio nuts
Sesame seeds
Pomegranate seeds
Fresh Pecorino Romano cheese
Toast the sourdough bread until golden brown

Remove the pit from the avocado and discard. Remove the avocado from the skin and place the avocado flesh into a medium bowl and mash with a fork

Slather the mashed avocado on top of the toast, followed by the garnishes of choice

Drizzle with Extra Virgin Olive Oil and lemon juice

Season with sea salt and pepper to taste