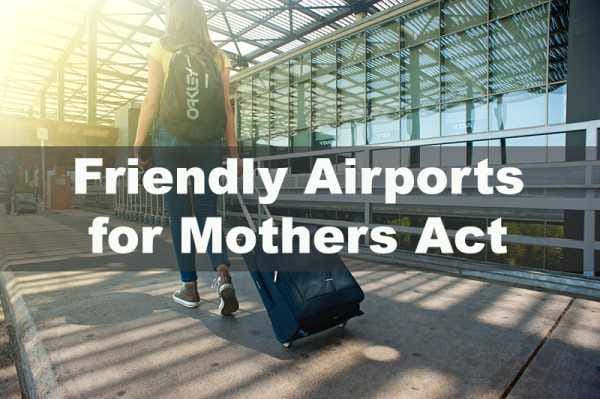 Traveling with your baby as a nursing mother just became a little bit easier. On Friday, October 5, 2018, the President Trump signed the five-year reauthorization of the Federal Aviation Administration (FAA), which included the (FAM ACT) Friendly Airports for Mothers Act introduced by Senator Tammy Duckworth (D-IL) and Representative Stephen Knight (R-CA).
This Bill requires that all medium and large airport terminals provide a lactation area in a private area which is not a bathroom, clean, shielded from view and free from intrusion from the public. It will also include a place to sit, a table with a flat surface, a locked door and an electric outlet. Additionally, airports will be required to provide baby changing tables in men's and women's bathrooms. This will provide a clean and accessible environment for nursing mothers as they travel.
Nursing your baby in public can sometimes be difficult. Our culture has been accustomed to view the womens body in such a sexualized way that nursing mothers in America have always felt uncomfortable about breastfeeding in public places.
People scrutinize nursing mothers or try to embarass them and make them feel as if their doing something wrong. This type of behavior can discourage a nursing mother from breastfeeding altogether. There seems to be very few accommodating areas for nursing mothers to pump their breast milk and breastfeed their babies without scrutiny. How many times have you pumped your breastmilk in a bathroom stall? Or had to feed your baby in a park, restaurant, or shopping mall with people gazing at you? It can be one of the most embarrassing experiences for nursing mothers.
Services like Moms Pump Here helps moms by listing places to pump or nurse all over the world, including major airports. Over 200 airports from around the world have been listed and can be updated or reviewed by moms as airports add lactation spaces.
The FAM ACT is long overdue and an important step in creating a more family friendly environment. Hopefully many other public places will follow suit and take notice. In spite of all the chaos in our country this looks like a glimmer of hope and promise for the next generation of mothers to come.