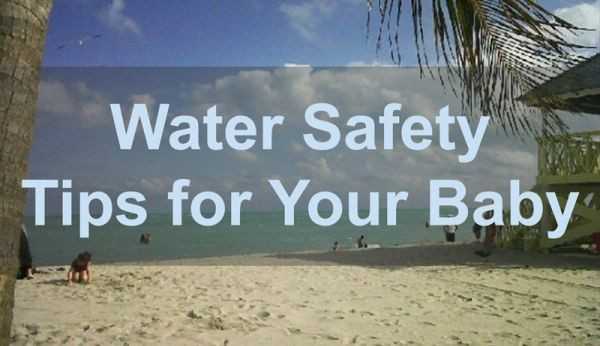 Summertime is the perfect time of year to be outdoors and by the water. We get new bathing suits, toys to build sand castles, beach umbrellas or new floaties for the pool. But what about summer safety. How prepared are you to be by the beach or pool with your baby?
Here are some water safety tips for your baby:
1. Keep an eye on your child! It can be easy to get distracted. You may look down at your smart phone for too long, try to take the perfect selfie or start talking to a friend. But there is nothing more important than watching your baby like a hawk. It takes a few seconds for a toddler to wander away, out of sight and into the water.
2. Be wary of rip tides at the beach. A rip tide is when to currents traveling in different directions meet. The intersection creates a powerful pull and can drag you under. On the surface of the water you will see waves moving in different directions. There will be waves coming toward the shore and adjacent waves intersecting the waves coming to shore.
If you are caught in a rip tide swim parallel to the shore.
3. Sunblock. No matter what your melanin levels (skin tone) you still need to wear sunblock, especially your baby. The sun's untraviolete (UV) rays are powerful. Our atmosphere does a great job of protecting us but because of pollution our ozone layers have thinned tremendously.
4. CPR. Baby CPR is an important skill to know whether or not you get to use it. Because we are easily distracted (not an excuse) and babies are curious it's important to learn baby CPR just in case! Baby CPR is slightly different from adult CPR because you would be using different techniques on a smaller body. Ask other moms, your pediatrician or lamaze class intructors where you can learn baby CPR. YouTube has tutorials as well.
5. Floaties and life vests. Whenever your baby is in the pool or at the beach or on a boat please make sure to have floaties on hand and on your child. These floatation devices could be life savers!
6. Pop-up tent and umbrellas. These items are easy to get at your local super store or drug store during the summer. A pop-up tent can also make it easy for your baby to nap under or for you to breastfeed in the shade to stay cool. They will also protect your baby from the sun's rays.
7. Baby hat. A baby hat will shade your baby's face from the sun. Again, the sun's rays are strong. This is a must have.