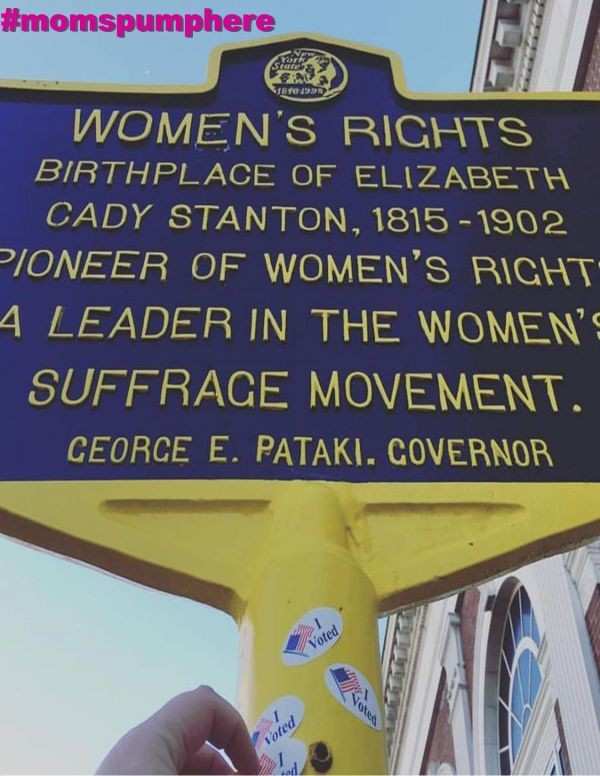 The big day is here – the day we Americans will be choosing a new leader for the next four years. No matter which candidate wins the election, we are sure to have history made this week. We at Moms Pump Here don't discuss political views, but today we encourage our moms to get out there and make our voices be heard. Whether we choose the first woman elected President or the first time a citizen is elected to the highest position in our nation without having served any prior public office – here are four reasons we need to vote today…
We are concerned for our children's future. All moms feel this way. As soon as we find out we are expecting, we begin making plans for the future. We plan the nursery, we plan their outfits, and we imagine what they'll want to be when they grow up.
We are active participants in what's happening in our communities, towns, states, and our nation. If we don't offer our input for the decision, we can't complain about the outcome.
Similar to parenting, we must be as firm and consistent during the tough times as we are during the "easy" times. We must do the hard thing so we can get through it. Think about the times your toddler has thrown a tantrum in a grocery store – we wouldn't walk away from our children when we aren't sure how to handle them or because it was too difficult to parent at that moment. This election cycle has not been pretty, but we can't walk away now.
We must set good examples by caring about the world we live in. I grew up in the birthplace of Elizabeth Cady Stanton, a pioneer for women's rights – and I still find it shocking that women have held the right to vote for less than 100 years. My Grandma Edna was born before women could vote – which still amazes me! I remember going with my parents to vote at our town barn. (Yes, that's how rural my upbringing was – our town's elections and meetings occurred in a barn!) My parents had both worked long and hard days at their jobs, they came home and after dinner our family drove almost eight miles away from our home so my mother and father could cast their votes. They were likely tired and exhausted but – they set a wonderful example that voting is crucial to our society and we must take the responsibility very seriously.
No matter your affiliation, your party, your preference – please exercise your right today and make your voice be heard. We are moms and our babies are counting on us.