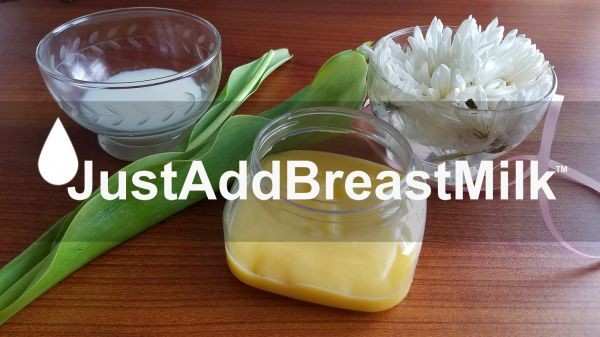 Mom, Priya Nembhard has revolutionized the breastfeeding industry again by creating a natural, Ayurvedic lotion nursing moms can add their own breast milk to heal their baby's skin. This new innovative product, JustAddBreastMilk (Just Add Breast Milk), is a topical salve made from natural ingredients but the main active ingredient is breast milk! A mom must add breast milk to get the most potency out of the product.
Created by the Founder of Moms Pump Here LLC, a health and wellness company for nursing moms, JustAddBreastMilk takes the middle man (or woman) out of using products created to heal diaper rash, eczema, dryness, and more. A mom can add the breast milk herself!
Breast milk alone is a potent ingredient in the development of a baby. Moms can use it to heal pink eye or as a cure for a common cold because of the important anti-bodies found in breast milk and more! Combined with ancient healing ingredients like Ghee, coconut oil and lavender it becomes more powerful. These ingredients also act as a base or carrier ingredients for the breast milk which can be soothed onto the skin.
"The launch of JustAddBreastMilk is extremely exciting. We want the best for our nursing moms. And in order to provide them with the best we need to continue to pivot, grow and change. Our new health and wellness product is the perfect way to do so." says Priya Nembhard, Founder and CEO of Moms Pump Here.
Selling at $32.99, JustAddBreastMilk is the latest product offered by the already successful Moms Pump Here website, which offers an online social network, access to the Moms Pump Here Youtube show #thePINKLife, mom blogs, and giveaways for registered moms. It's core product, the Moms Pump Here Nursing Room Locator App has become a game changer for nursing moms on the go and continues to make a big impact in the nursing mom community.
Use Code: JABMMOMDAY now through Mother's Day, May 14th to receive a $5 discount on your purchase of JustAddBreastMilk!