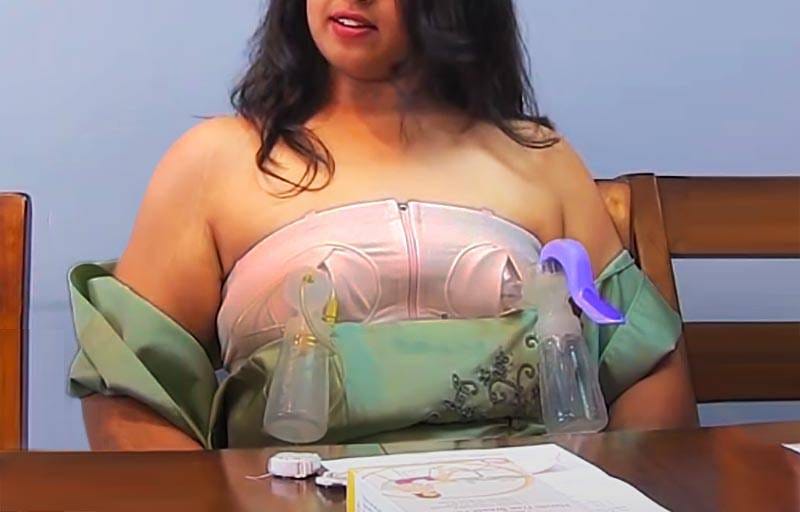 This was advice from my friend Marnie, the only breastfeeding mom I knew when I had my oldest son in 2008. Sure, my mom had breastfed me back in the late 70's but she didn't have advice about breast pumps. My lactation consultant was straight from La Leche League and warned me I should wait to breast pump, so I was taking Marnie's advice about pumping.
I bought the smallest one I could find at Babies R Us, knowing that I would need to shove it into a purse or diaper bag during my return to work and any business trips, travel plans, or wedding events I'd need to attend. I chose the Dr. Brown Manual, which looked like this: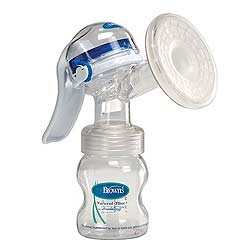 My friend assured me I would get used to the style of it, and that if I did it consistently it would work well for me. She said she used hers in her office before a work meeting, in her car before a dinner event, and even in her hotel room between seminar sessions when she was traveling. She loved that it traveled well, wasn't bulky like the double electric pump she had at home, and it could fit easily in her work bag.
Initially, I found it difficult to use: if the positioning wasn't just right, I couldn't easily achieve the "let down" like I could with my double electric version. I found I needed to frequently switch hands to keep my muscles from cramping, but Marnie continually reassured me that my muscles would adjust to the repeated pumping and that I would be able to more easily express milk the more frequently I used it.
Even with the tired muscles, I definitely appreciated the benefits of my manual pump. I could quietly pump during a conference call and not worry about distracting the other parties. I didn't need to bring cords, adapters, or tubes because it was such a simple unit and I loved that I could take it apart and carry it in my laptop bag, and then store the expressed milk in my lunch bag – which eliminated my need for a separate pump bag to carry to and from work.
I brought this pump with me to family functions, date nights, client meetings. It wasn't as cumbersome to load and lug as my electric version and I could easily store it in a gallon-sized Ziploc bag "just in case". I was happy I had this pump handy when my trusty electric one suddenly wasn't functioning and I was desperately trying to express milk one night when my oldest baby wasn't feeling well. I was also able to use it to quickly express a small amount to relieve engorgement, and allow my baby to get a better latch and more successfully nurse.
Because it's non-electric, a pumping mom is not restricted from using a manual breast pump on an airplane (in flight) or having it scrutinized through security. I've had my electric one checked for explosives in the security checkpoints multiple times, but the TSA agents simply nod their heads when they see the manual one. This alone can save time, energy, and even aggravation as you're traveling.
Thank you to Marnie for educating me on having more than one pump and sharing her own Adventures in Breastpumping with me all those years ago because they certainly are still applied today.
Please like and share MomsPumpHere.com to help other moms find safe, secure places to express their milk – and Happy Pump Day!