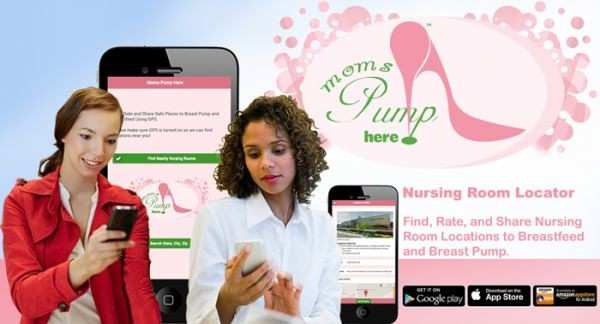 Moms Pump Here launches new Locator App via Google Play Store, Amazon and iTunes
An app to help moms find safe and comfortable places to breastfeed or breast pump in the United States
NEW YORK, NY (May 1, 2015) – Moms Pump Here is gearing up to launch their new Nursing Room Locator App during the month of May 2015. Created by moms for moms, the Moms Pump Here Nursing Room Locator App helps moms find, rate and share nursing room locations. With close to 1,000 nursing room locations, moms on the go can easily search for a place to breastfeed or breast pump, eliminating the inconvenience of nursing in a public bathroom or parked car. The Nursing Room Locator App is currently available free for download on the Google Play Store, Amazon and iTunes.
Moms Pump Here reduces the frustration and isolation nursing moms can face when looking for a good spot to breastfeed their infants. By clicking on "Find Nearby Nursing Rooms" or "Search State, City, or Zip," moms will obtain a list of nursing friendly places that includes detailed descriptions and photos of each nursing room. The app also allows traveling moms to plan ahead of time by searching and finding nursing friendly locations anywhere in the United States and its international territories before they arrive (including Puerto Rico, Guam, and the US Virgin Islands). Moms may download and install the MPH Nursing Room Locator app via Android Smartphone, Tablet, iPhone or iPad.
"We're excited the Moms Pump Here platform is now available to help women find a clean, safe, comfortable place to pump. From our interactive website to our various apps to our online community of moms, it's wonderful to see this small idea come to life in such a big way" says Kim Harrison, Co-Founder of Moms Pump Here. This App is the latest tool offered by the already successful Moms Pump Here website, which offers an online social network, discussion forum, resourceful and entertaining video channel, community blog, and incentive/rewards programs for registered moms.
Moms Pump Here will be a participating exhibitor at this year's New York Baby Show which takes place on Saturday, May 16th and Sunday, May 17th from 10:00 a.m. to 4 p.m. at Pier 92 (located at 711 12th Avenue, New York, NY. 10019). To request an interview with Co-Founders Priya Nembhard or Kim Harrision during their appearance at the show, email or call 305-926-9340. For further information on Moms Pump Here or the Nursing Room App, visit www.MomsPumpHere.com. To find event or ticket information for the New York Baby Show, visit www.NewYorkBabyShow.com.
###
About Moms Pump Here
MomsPumpHere is the first service to use smartphones to help moms easily locate safe, quiet places to breast pump or breastfeed. The Nursing Room Locator app allows moms to find, rate, and share safe places to express breast milk. Co-Founders Kim Harrison and Priya Nembhard are moms who are strong advocates for women who nurse and/ or pump. Moms Pump Here connects moms to the closest nursing mother's rooms on demand. At the touch of your tablet or smartphone screen, MPH connects you to a vast list of public or private nursing-friendly places using the Nursing Room Locator's GPS and detailed search feature. The app is currently accessible via iPhone, iPad, Android, Google Nexus Tablet, Amazon Kindle, Amazon Fire, BlackBerry, mobile and online website.