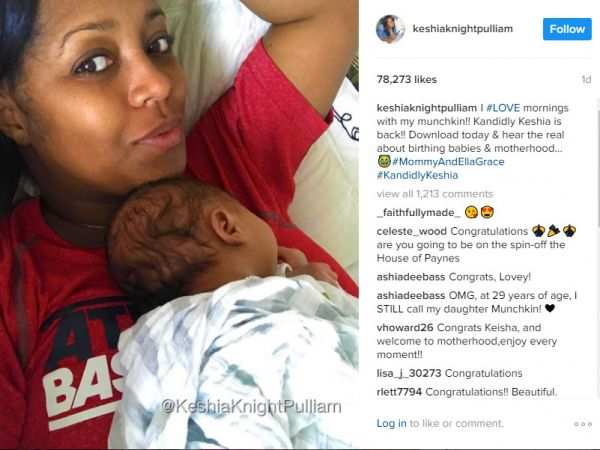 First time new celebrity mom Keshia Knight Pulliam is enjoying the joys and highs of being a first time mom, but not without an unpleasant run-in with her Lactation Specialist post-baby delivery according to her podcast, Kandidly Keshia.
Keshia who many remember as Rudy on 80's family sitcom The Cosby Show, recently delivered healthy baby daughter Ella Grace via C-section, proudly displayed on her instagram.
The 37 year old actress thanked her OBGYN and everyone who helped through her delivery, except her lactation consultant who she believes was indifferent and judgemental because she was an African American mom.
Keshia jokingly said "Bless this old little lady's heart," referring to her LC who she estimated about 70 years old or more. She recounted the LC, not knowing who she was, handed her a hospital pamphlet with resources for new mothers including WIC, a standard procedure.
Pulliam alleges the LC entered her hospital room and said "Yes, and we have some great programs that you may want to take advantage of that you may need — WIC is a great program; I don't know if you have insurance."
Keshia allege the LC focused only on the part of the pamphlet for the WIC program, which provides benefits for low-income pregnant, breastfeeding, non-breastfeeding postpartum women, and infants and children up to age 5 who might be at nutritional risk.
She took an offense to this since WIC falls under the welfare program, thinking her LC simply saw a new African American mom, and assumed she needed WIC without knowing her status. Pulliam said the situation got more awkward as the elderly LC wouldn't even touch her, or her breasts to couch her how to make a first successful latch to breastfeed her baby.
Pulliam noted "I get it, it's about showing the services that are offered, and I probably wouldn't have been offended had she [listed] several of the services, [not just] WIC."
We don't know this elderly LC so it's not in our place to judge her, and moreover LC's are not required to touch you, but offer professional health and wellness advice and recommendation for new moms.
Has the same incident happened to you? Let us know....
Are there discriminations post childbirth in many cases for low income or minority race moms...YES.
Has it happened to other new moms who were somewhat famous, non-African American, or important personalities?...YES.
It's important to know however, WIC is also suggested to white, and other non-African American moms immediately after childbirth.
So Pulliam may be right, or it could have been a situation perceived the wrong way by a first time mom. How do you feel about it?