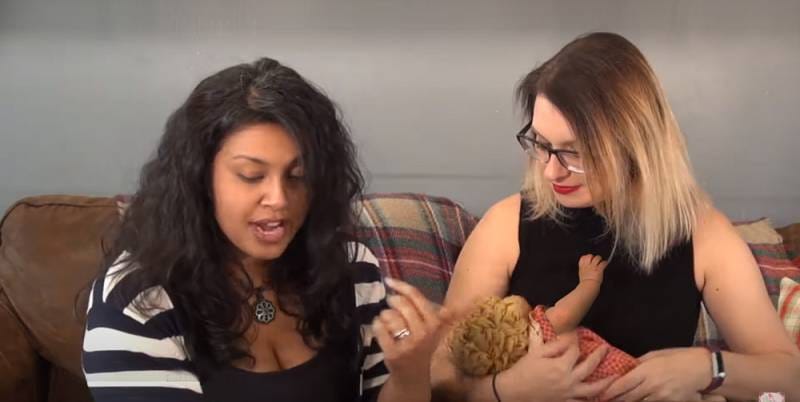 We often assume knowing how to breastfeed a newborn will come naturally for any mom. However the truth is unless they've practiced regularly leading up to actual childbirth aka with help of personal doulas or a lamaze class, most moms won't automatically know the best ways to hold and breastfeed their baby. Here are a few tips to help, when figuring out the best positions to breastfeed your new baby.
The Australian Hold
The first position is called the Australian Hold. The baby is carefully placed on the knee with one hand supporting its lower body while your other hand gently place and support their head and neck against the nipple of choice.
Cradle Hold
A cradle hold is basically cradling your baby obviously. A boppy cushion or clean bed pillow is great to have for extra lower arm support in this position, because your arm tend to get tired easily holding the baby. Make sure the baby's neck and head are comfortably resting in the fold of your arm (between bicep and forearm). Place the baby's hand under your breast to prevent obstruction to latching or difficulty breathing. Naturally the baby will want to feed and turn it's head towards your nipple to latch on. Assist the latch by making sure the bull nipple is in the baby's mouth. If the baby is not opening it's mouth to latch, gently rubbing their cheek often does the trick.
Cross Cradle Hold
In this breastfeeding position, instead of the fold or bended corner of your arm supporting the baby's neck and head, your arm and palm of your hands rest/hold the back of their head. Once again, a cushion or pillow should support the underneath of your arm, and the baby's arm is resting under your breast.
Football Hold
The football Hold is when you literally gently place your forearm this time on a long pillow and position your baby like you'd hold or hug a football between your arm and chest. In this position the baby's entire body also rest on the pillow as you move their mouth towards your nipple with palm of your hand behind their head. It's important to make sure the baby's comfortable and not contorted.
Sideline Hold
Lay sideways on a soft cushioned surface such as your bed or wide couch with your elbow and lower arm propping up your torso. Position the baby's entire body sideways to yours, with their head and mouth directly next to your nipple. Place your free arm around the baby's back and head and place their mouth towards your nipple to latch on.
Chest to Chest Contact
The chest to chest hold requires additional care as you normally place your baby against your body while in an inclined position. Avoid applying additional pressure against the baby's head to force latching. Instead keep your arm and palm placed behind the baby's back and head to prevent swaying side to side as they latch. Newborns and younger infants don't have head and neck muscle control, so it's important to monitor the latch to prevent smothering.