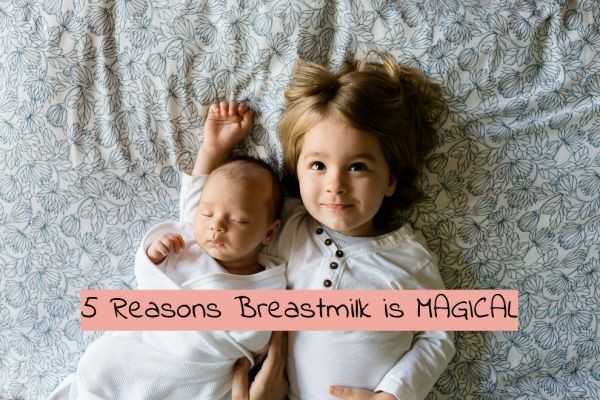 The recipe for mother's milk is an ancient, powerful, healing formula. Science hasn't perfected the formula yet and there's still so much to discover about its magnificent wonders. It's a recipe that female bodies have been developing for 300 million years, no wonder it contains so much…magic.
1. Breast Milk is much more than food; it's potent medicine.
It has many germ and disease fighting properties that help protect babies from illnesses. Breast-fed babies are less likely to develop colds and viruses. When they do get sick, they recover quicker because your body produces antibodies specific to the baby's infection, through breast-baby communication. Which leads to the next magical fact…
2. Breast Milk has the power to COMMUNICATE with your babies!
Your baby tells your breast what kind of milk it prefers, and your breast listens! The nutritional and immunological components of breast milk change every day, according to the specific, individual needs of your baby. Your baby might lack the words to tell you what she needs, but breastfeeding makes it possible for you to receive her messages. During breastfeeding, her saliva "back washes" into your breast, providing your body with all the information it needs to make the best milk for your baby.
3. It's a Super Food.
It contains all the hydration, vitamins and nutrients a rapidly growing baby needs. Nutritionally, breast milk is a complete and perfect food. It has an ideal combination of proteins, fat, carbohydrates, and nutrients. Yum! Breastmilk protein bars, anyone?
4. Your Breast Milk…IS ALIVE
There are a ton of microbes in your milk. Your milk is raw, and it isn't sterile. But don't worry-this is a GREAT thing. It's filled with good bacteria, like kefir or yogurt. It helps populate your baby's gut with great bacteria that'll help baby throughout his entire life.
5. The taste of your breast milk is as diverse as your diet.
The flavors of the food you eat—kimchi, apples, peppermint, stinky cheese—are transmitted to your milk, which your baby gets to taste! These early breast-feeding sessions help your baby develop her own personal taste preferences, as well as increase her enjoyment of particular flavors. You get to shape your baby's future taste pallets!
I believe breastmilk is the closest thing we have to magic. Our bodies are incredible and miraculous! What was your favorite point? Mine was #2. Tell me your thoughts by dropping a comment below.
Source: Breasts: A Natural and Unnatural History by Florence Williams