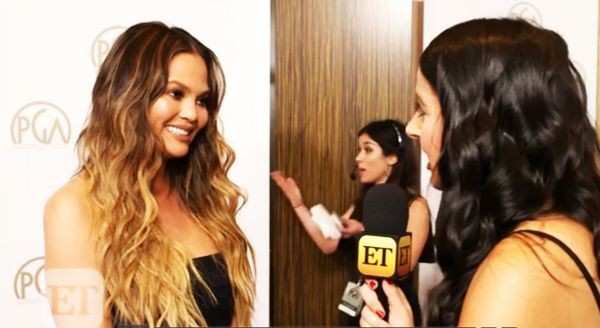 Last night at the 28th Annual Screen Actors Guild Awards, Chrissy Teigen gushed about the possibility of expanding her family with a little boy, with husband, John Legend. Her daughter, Luna, now 9 ½ months has been a joy for them both.
When asked by Entertainment Tonight about expanding her family she said "A little boy is next, for sure," Chrissy tells Entertainment Tonight. "I mean, I don't know. We have one on ice."
Both her and her husband went through the process of In Vitro Fertilization (IVF) for Luna and chose her sex. She has been quoted previously saying: "I think I was most excited and allured by the fact that John would be the best father to a little girl. That excited me," she explained. "It excited me to see … just the thought of seeing him with a little girl. I think he deserves a little girl. I think he deserves that bond."
According to the Mayo Clinic In Vitro Fertilization (IVF) is a complex series of procedures used to treat fertility or genetic problems and assist with the conception of a child. There are many reasons why couples choose to go through IVF. Chrissy Teigen and John Legend, much like other parents chose to use IVF based on their own concerns and preferences.
Although selecting the gender of a baby can be controversial, choosing the sex of baby through IVF is a personal decsion.