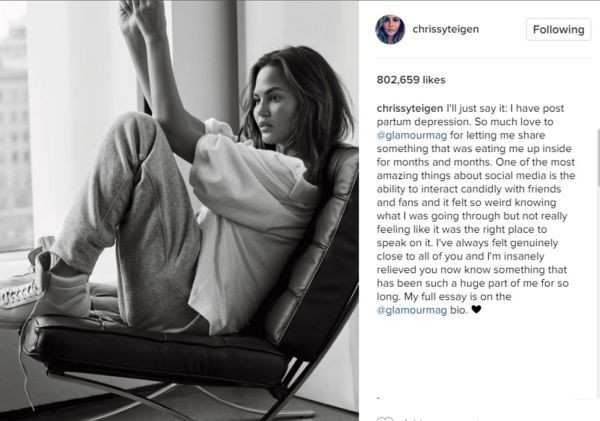 We love Chrissy Teigen. She lives her life like an open book. Especially since becoming a mom. Chrissy has shown us all we are not alone. Motherhood is beautiful, but moms have it tough and in some cases unfairly tough.
Yesterday, Chrissy penned a beautiful essay in Glamour Magazine about her struggle with post-partum depression. She was diagnosed with post-partum in December. In the essay she gushes about her amazing relationship with her husband, John Legend and her smooth pregnancy with her, daughter Luna. After Luna was born she noticed sadness lingered all too often. She would blame the sadness on changes, like house construction or just being busy, but at the time she did not realize she was suffering from post-partum depression.
According to the Center for Disease Control (CDC), one in nine women suffers from post-partum depression. Symptoms can range from the following:
• Crying often
• Feelings of anger.
• Withdrawing from loved ones.
• Feeling numb or disconnected from your baby.
• Worrying that you will hurt the baby.
• Feeling guilty about not being a good mom or doubting your ability to care for the baby.
Chrissy goes on to share how she did not want to leave the house unless it was for work. Even to a point she would sleep for days in the living room and burst out crying spontaneously. Thankfully after being diagnosed her awareness and the support from friends and family has helped her tremendously to cope.
If you think you may post-partum depression we encourage you to seek help from your doctor. It is treatable and there are a ton of resources available online. You are not alone.